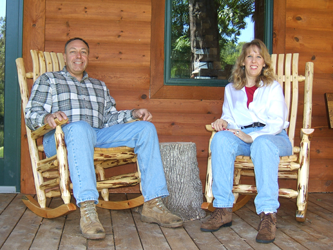 About Gerard and Kelly:
Your Cabin Rental Hosts
Gerard
I grew up in Toledo, Ohio and love to hunt, fish and trap. I worked on a farm as a kid and decided to raise my kids the same way I grew up. Right after graduation from high school, I joined the Navy. After 4 years of service and an honorable discharge, I started looking for a farm. I traveled to Wisconsin and fell in love with the area and decided to stay. When I found this farm for sale, I had to have it. With three young children and no job waiting, I then packed up my family and moved from Ohio to Wisconsin on July 4, 1988, in 100 degree temperatures! With the money I had saved as a kid, through the Navy and working at a coal fired powerhouse in a foundry in Ohio, I started construction on a new house with the help and advice of a local home builder. We lived in the old farmhouse during construction. This house was eventually torn down.
The farm originally had a cottage which was built in 1952, on the site where the cabin now sits. The cottage was torn down in 2005 and the Cabin was completed in 2006. The cabin was built with the intent to share our piece of heaven with others. We have many unique and personal touches in the cabin that will not be found at any other Wisconsin cabin rentals and cabin getaways. Our guests have become like an extended family to us and we are excited to see them enjoying the best weekend getaways possible, reveling in the full spectrum of our farm and nature. We have also begun restoring our barn and farm outbuildings. We started with restoring the outhouse. Completion date on our barn is summer of 2010 for our scheduled family reunion.
Some of our past young guests have enjoyed catching fish, frogs, tadpoles,and turtles in Alder Creek or the nearby Wolf River and Lake Poygan, shooting their BB gun and slingshots. Our more adventurous guests, both young and old, have enjoyed exploring the creek as it meanders up through the woods by canoe or row boat. We also enjoy the excitement of a guest inquiring about the history of our barn, which was built in the 1800's. I love to show off and explain what the old farm implements that I have collected were used for.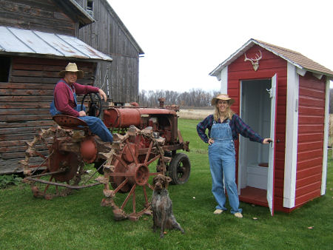 Kelly
I was born in Southern California and lived there until my younger sister was born 2 years later. My family then moved to suburbs of Chicago, Illinois. Every summer, during my grade school years, I would live on my Grandparents dairy farm in Iola, Wisconsin, just 45 minutes from Fremont. I had the best of both worlds... the city life for shopping and entertainment, and country life for appreciating nature, growing food off the land and watching the stars light up the sky at night. We all had responsibilities... My sister and I helped feed the chickens and cows, collect the eggs, milk the cows and clean up after them as well. We were up when the rooster told us it was morning and went to bed after the cows were milked and bedded down for the evening. I knew how to drive a tractor by the age of 12 and worked in the fields baling hay and straw with my family.
Oh, there was plenty of time for entertainment! However, it wasn't by the television, but by our imagination. My sister and I made forts out of the straw, went picking berries in the woods, played hide and seek, and watched the small critters and insects work and build their homes and store food. Nothing beats the experience of watching and partaking in the birth of calves and other farm animals; feeding, playing, taking care of them and watching them grow.
I also lived in Indianapolis, St. Louis and a few other suburbs of Chicago and moved up to Iola, in 1998 to live on my Grandparents farm after the death of my Mom and Grandfather. My sister and I always talked about retiring up in the Fremont and Lake Poygan area, I just found myself up here sooner than expected.
Gerard and I met at a singles dance during the Iola Old Car Show in July 2002. We were married in August of 2004. At age 49, Gerard served in Iraq as Sergeant and Infantry Team Leader in 2005-2006 with the Wisconsin Army National Guard - running missions as Convoy Security throughout Iraq. During this time I continued working full-time, went to school to work with senior adults in the healthcare field, was training Gerard's new hunting puppy Zip, a Wirehair Pointing Griffon, as well as working with the contractor putting up the shell and some of the unique details in the cabin. After Gerard returned, together we enjoyed completing the finishing touches that can only be found in Cabin on the Creek LLC. and we are constantly looking for ways to awe our cabin rental guests and love hearing the feedback.
We genuinely want our guests to feel that they are at home at the cabin. Whether you are visiting our little slice of paradise to enjoy the space as a hunting cabin or fishing cabin, or looking for the ideal space to host your closest friends and family for a bachelor party, bachelorette party, or exciting getaway, we cannot wait to meet you! Please join us soon!